BLOCK OCCUPANCY DETECTOR
The new improved design uses a Microchip PIC microcontroller to provide these model railroading functions simultaneously;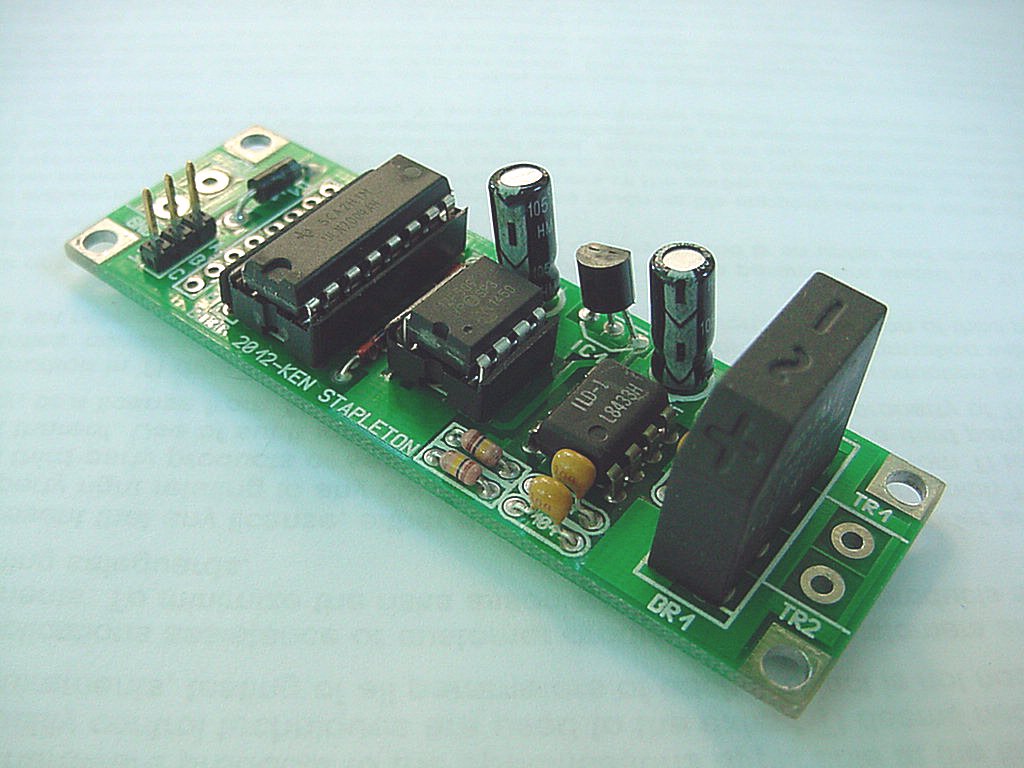 note - This circuit has not been designed for DCC systems, however the non-directional indications and level crossing flashers will work with DCC
FOREWORD
There was something lacking at my first two attempts to come up with a better block detector circuit. For starters, the first two circuits used up a lot of board space. Then there was the issue of using linear signal conditioning and timing circuits. It amounted to a ton of parts, although the operation was stable. I tried to come up with all kinds of ideas to interface with crossing flashers, signal circuits, trackside signals and external relays and nothing was working out the way I expected.
Finally, the answer... a PIC microcontroller. Oh sure, I had to develop a program, but the advantages far outweighed using linear components to achieve the same results. Actually, I'd be hard pressed to make an equivalent circuit that works as well as this one. This little monster does EVERYTHING! Green/red directional and non-directional indication AND crossing flashers at the same time!!! Connect a standard 10 pin IDC ribbon cable and it can be used for the front end of my APB-3A improved Absolute Permissive signal system while still providing it's original functions. And the REALLY cool thing about it is there are NO ADJUSTMENTS that need to be made. Connect it and forget about it!
CIRCUITRY
The microcontroller takes care of all the de-bouncing and timing and switching functions which are usually handled by op amps and transistors. The resultant savings in parts allow the entire circuit to be constructed on a 1" X 3" circuit board!
The circuit is quite simple. Figure 2 illustrates the "heart" of the block activity detection system. Two opto-isolators are connected across a 4 amp bridge rectifier which produces a voltage drop across it's AC terminals when current is drawn in the block of track connected to it. A locomotive or wheelsets with a resistor connected across the wheels will draw the current to set the circuit off. The opto-isolators detect which direction the current is flowing in and send signals to the microcontroller. The microcontroller processes the input signals and turns on the corresponding indicator outputs. (For simplicity I have not shown all of the components required for this circuit. The lamp or LED driver is a ULN2003 IC which will sink up to 500ma per output.) When no activity is detected, the indicators extinguish. The block activity indicators turn off after a 1/2 second delay and the grade crossing lights or LEDs will turn off about 2 seconds later. All outputs are absolutely flicker free!
The output indicators, whether panel mount or trackside, are wired and soldered to the circuit board. Alternately, you can use standard 0.100" spaced headers and connectors. I don't provide these in the kit. The 12VDC power supply and track connections are directly soldered to the PC board also, although standard 0.200" spaced terminal blocks can be used instead for solderless connections. Again, these are not included in the kits.
The printed circuit board diagram below shows connections labeled "1" through "8" at the left side of the diagram. This is where the signals, indicators or relays are connected. "A", "B" and "C" are jumpered according to the output function required at connection point "6". You will need a 12VDC power supply to operate this circuit. The connections for the power supply are made at the left hand side of the board while the track/throttle connections are made at the right side. "CN1" is a 10 pin IDC header which is used for interfacing to the APB-3A signal module. Kits are supplied with comprehensive assembly and connection instructions but NOT with the 0.200" pitch connectors for power and track connections or with 0.100" pitch single in-line connector for output connections.
CONNECTION AND JUMPER TABLE
FIGURE 3 and FIGURE 4 show the different ways the BD3A can be used as a "stand alone" block activity detection and signaling circuit. In these two examples, a section of track runs east to west and has a level crossing on the north and south sides of the track. Both diagrams show LEDs being used as signals, however, 12 volt incandescent lamps can also be used. The output drivers are robust enough to drive multiple LEDs or lamps and can also be used to power relays. Just be sure to limit the current demand on any output to around 250ma. The LED current limiting resistors are shown but no value is assigned. 1KOHM is suggested for 10ma current draw, which will supply ample current for high visibility while ensuring long LED life.
| | |
| --- | --- |
| CONNECTION NUMBER | FUNCTION |
| | |
| 1 | 12V - POSITIVE LAMP/LED/RELAY SUPPLY COMMON |
| 2 | WEST OUTPUT - RED/OCCUPIED |
| 3 | CROSSING FLASHER #1 OUTPUT |
| 4 | WEST OUTPUT - GREEN/UNOCCUPIED |
| 5 | EAST & WEST OUTPUT - RED/OCCUPIED |
| 6 - A/B | "A" JUMPERED TO "B" - E&W OUT - GREEN/UNOCCUPIED |
| 6 - B/C | "B" JUMPERED TO "C" - EAST OUTPUT - GREEN/UNOCCUPIED |
| 7 | CROSSING FLASHER #2 OUTPUT |
| 8 | EAST OUTPUT - RED/OCCUPIED |
FIGURE 3 shows the circuit configuration and operation with CN1 pin "A" jumpered to "B". This configuration will indicate "occupied" with a red signal at both ends of the block without regard for direction of travel. Unoccupied blocks would show green signals. Crossing flasher signals operate independent of the block activity signals.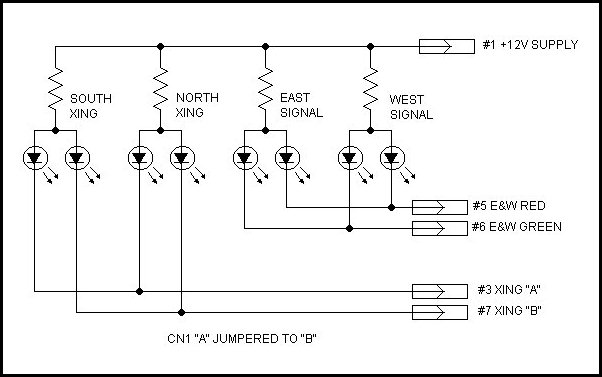 FIGURE 3
FIGURE 4 shows the circuit configuration and operation with CN1 pin "B" jumpered to pin "C". This configuration would be used for main lines to allow following traffic to have green signals while opposing traffic would get a red. With a bit of "creative" wiring, it is possible to wire in yellow signals, but I'll leave that one up to you! Again, the level crossing signals work independent of the occupancy signals.
FIGURE 4
---
PRICE EACH - FULLY ASSEMBLED & TESTED
USD $18.00
SHIPPING EXTRA
To order this item, send an e-mail to me and I'll supply you with details.
---