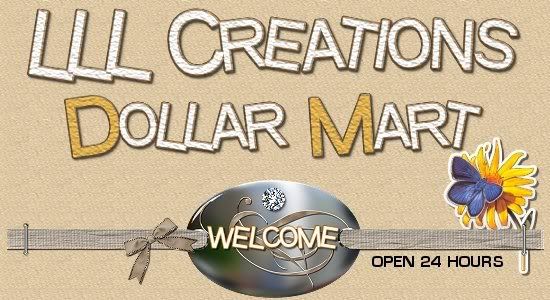 Welcome to LLL Creations Dollar Mart.
Your one stop shop for quality digital scrapbooking graphics on a budget.
Come on in and look around.
Browse the different categories to see what I have to offer.

Everything created is 300 PPI and in .png format
- except papers which are 300 PPI and .jpg format.
All papers, quickpages and overlays are 3600x3600 pixels (12"x12")
and everything else is proportioned for using with that size paper (or larger).

Many items at $1.00 ~ Many categories to chose from ~
(even 50 cent items) ~ Canadian dollars ~
Who says scrapbooking has to be expensive?
Please note this is my NEW facebook as of Jan 27 2012.
I was having problems with the last one and it will no longer be updated.
Please "like" the new one below to get the lastest freebies etc.

Download my TOU here
* Contact Me *
NOTE: I will send you the download links from 4shared for your order.
Order response time is usually within the hour (if I am home) but for sure within the same day.
Please keep in mind I am on Eastern Daylight Time.


When you add an item to the cart it might open up in a new window.
You can close that window and continue shopping.
Your next item will be added to that same cart.
If you have closed all cart windows and want to check out, just use the View Cart button here.
What scrapbooking software do I use to create scrapbooks and more?
I use My Memories Suite.
Use this code to receive $10 discount on My Memories Suite software:
STMMMS29686

My Memories Suite, a fabulous software that's easy to use for beginners
yet powerful enough for serious scrapbookers. This program has so many
possibilities. Create scrapbooks to print or save them onto dvd or even watch them
on your ipod.

CATEGORIES
Click on category name to enter


ALPHABET CATEGORY


EXAMPLE OF ALPHA


WORD ART CATEGORY
or any element with words


EXAMPLE OF WORD ART


FRAMES CATEGORY


EXAMPLE OF FRAMES


ELEMENTS CATEGORY


EXAMPLE OF ELEMENTS


OVERLAYS CATEGORY


EXAMPLE OF OVERLAYS


PAPERS CATEGORY


EXAMPLE OF PAPERS


QUICKPAGES CATEGORY


EXAMPLE OF QUICKPAGES


MINI KITS CATEGORY


EXAMPLE OF MINI KITS


*NEW* - MEGA KITS CATEGORY


EXAMPLE OF MEGA KITS


THEMED CATEGORIES


LOVE AND MARRIAGE CATEGORY


EXAMPLE OF LOVE AND MARRIAGE


'IS FOR ...' CATEGORY


EXAMPLE OF 'IS FOR ...'


MONTH FRAMES CATEGORY


EXAMPLE OF MONTH FRAME


CUSTOM MADE


CUSTOM MADE CATEGORY


EXAMPLE OF CUSTOM MADE


MOST POPULAR


FRIENDS OVERLAYS


FELINE WORD ART #1


BOOK FRAME #4


GOLF MINI KIT


WHAT'S NEW
Updated January 5, 2012


CHRISTMAS WORD ART #5


CHRISTMAS TAGS


CURLED PAPER OVERLAYS #1


PRECIOUS IN PASTELS


~ ADVANTAGES OF DIGITAL SCRAPBOOKING ~ ~ Everything is reusable over and over again ~
~ Everything can be resized to fit any size layout ~
~ Items can be re-coloured to fit your needs ~
~ No Bulky embellishments, pages lay flat ~
~ No waste - nothing goes in the garbage! ~
~ It's cheaper, much cheaper~! ~
~ No boxes, piles, binders, glue, organizers required ~
~ You can start and stop anytime by just leaving your computer ~
~ No mess, no clean up! ~
~ You can print at home or at many local stores ~
~ Layouts can be saved as .jpg files and watched as a slideshow ~
~ Layouts can be put on a cd to share with your family and friends ~
~ The possibilities are endless! ~


Click on the banner above for some great ideas for using your digital graphics!