Ian Cooper: Here's my 1972 BMW R75 with toaster tank and Krauser bags. First twin I've owned and a treat to ride. So far its had minimal work done to her and with only 21,000 miles its not even broken in yet. Looking forward to some longer rides.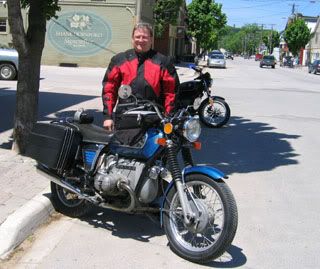 Chris's 85 Yamaha RZ500 Before and After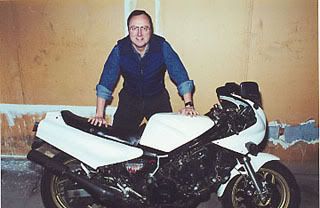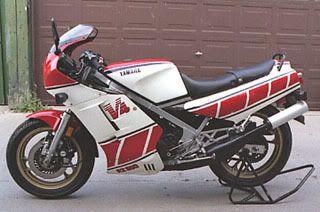 Chris's 68 Bonneville, bought from Bengt Sormon as a basket case. Restored in 05.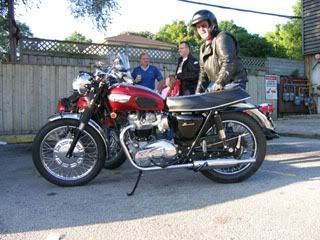 Matthew and His Pride and Joy - 1966 Triumph T100S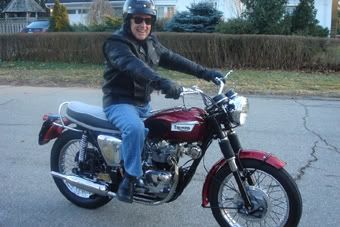 Matthew and His Next Pride and Joy - 1967 Triumph Mountain Cub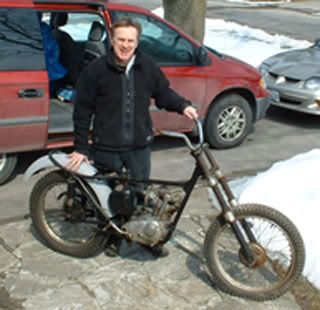 Syd Manton and His Pride and Joy - BSA and Chair 1950's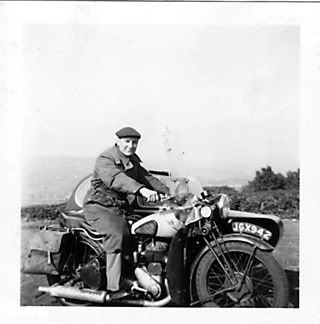 Dorien in the snow. 1967 Moto Guzzi V7.....700cc shaft drive....first Moto Guzzi V twin and a departure from their classic singles.
Mary: Which bike shall I take?
Jim Graham: Two of my favorite bikes together. The XL350R was the perfect enduro bike to leave at my cottage and exploring the Haliburtons on. The CB1100F was the fastest superbike in 1983 with a sub 11 second quarter mile time and had the looks to match the speed, it was a great sport bike.
Dave Jackson's favorite Yamaha TZ500 race bike (on the ground) just before Jim Allen ran over him at an AMA road race at Loudon in around the mid 70's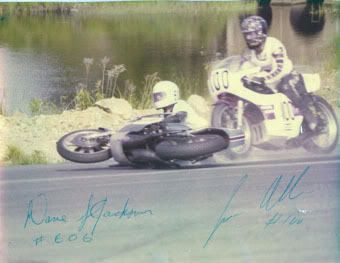 Trudy:Here's a picture of me and my 2003 Suzuki Volusia 800 in May 2006 in Tennessee after just riding The Dragon.
Dan Graham: The bike is a TZ700 Yamaha that Dan used to race, and this picture was taken in Quebec with Steve Bond right behind Dan, back in the mid 70's. Steve is the current Bike columnist for the Toronto Star.
Geoff Collins: 1970 Triumph TR6 with 750 Nikasil barrels, 90 degree offset crankshaft, Yamaha RZ500 forks, modified Yamaha fairing, Honda front wheel, alloy rims, custom Hindle SS exhaust system. Very light, very fast and smooth as an air-head BMW. More info at www.offsetcrank.com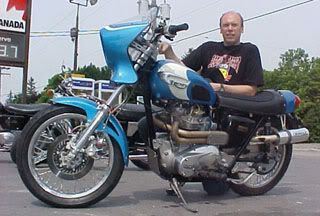 Dave Smith: The bike is 1991 R100RT. I bought it in Wales a few months ago and it's first trip for me will be to IOM 2007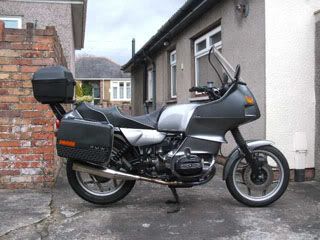 George Waymark: On his Trusty Steed - 1985 Susuki Intruder
Phil: Here is a picture of myself at the end of our trip to Dawson City, Yukon, 14,000 km in the saddle taken north of North Bay on the way south from the far north. The old BMr was the only bike to survive without any major repairs on the trip.

John La Flair: Here's a pic of the 1977 Yamaha 650 standard and some adoring fans. It's my favouite because it's light and easy to handle. It has wire wheels and looks like a bike should. It even has some electrical problems from time to time. No wonder I like it.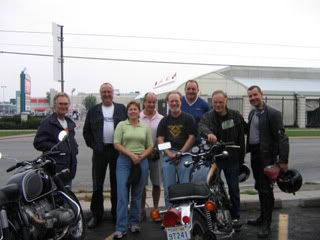 Ursula: My bike is almost shiny and since I don't have helmet head yet, it must be the beginning of one of our rides.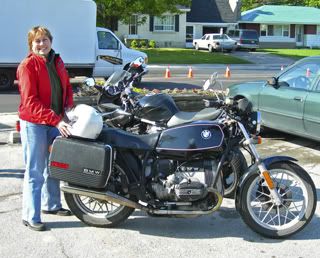 Bengt Sormon with a brace of Triumphs: A few years ago.... On the left the favourite, on the right Triumph 650, sold September 2006.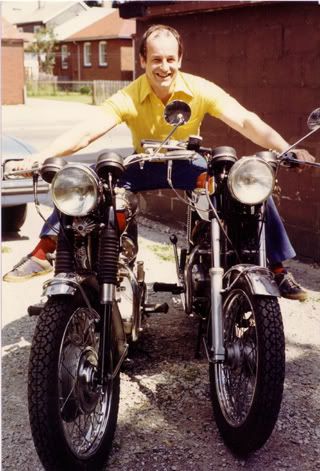 Bengt Sormon: My current favorite, Triumph 750 twin, 5 speed gearbox, undergoing major maintenance. 1970 Frame, 1973 Engine.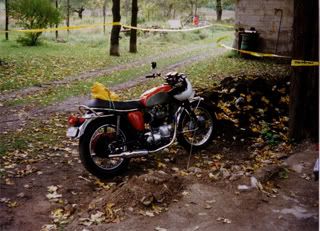 Ken Turton about to start his trip to Phoenix Arizona and back via the Grand Canyon in 1991 on his 1982 BMW R100.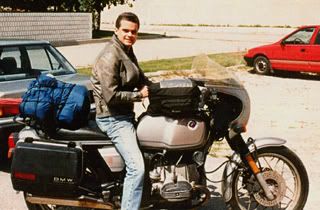 Brian Lithgow: Packing up and ready to roll out after another great rally at Paris 2006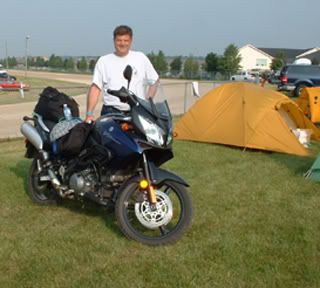 Brian Lithgow: Two photos of Brian taken 20 years apart in the same backyard. The 1983 photo shows his Honda CB900F SuperSport and the 2003 photo shows his Honda CB1100F SuperSport. The bikes are pretty much the same wish the same could be said of the owner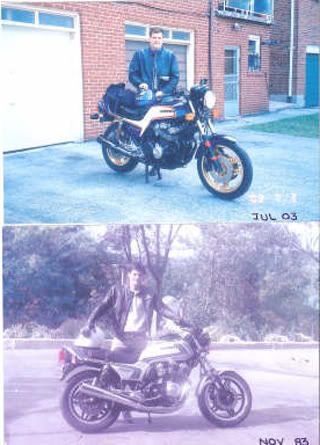 Steve Baldwick: Steve with his 1970 Triumph Daytona.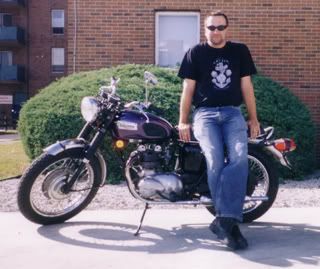 Mike McCartney: The Black Shadow was acquired from Michael's Motorcycles in St. Louis, Missouri in December of 2006. Mike Kiernan is the fellow who acquired the McBride Cycle collection just prior to their closing their doors last year.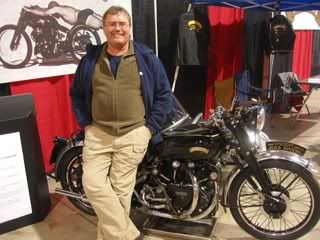 Mike McCartney: The HRD is a 1948 'B' Rapide, a one - owner bike bought in 1948 by Doug McPherson from the late Chuck Stockey. Doug used to drag race the bike along unopened sections of the 401 back in the early 50's.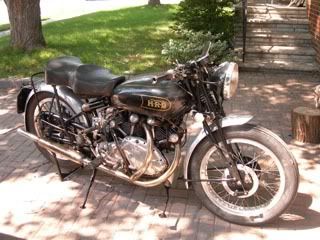 Alistair Frisby: Joined OFY in 1995 owning a Triumph Bonneville. Several bikes later he has now reached a balance of three Triumphs (two of which are triples). Having riden since 17 and owned a variety of machines (not all legal or safe), he now divides his time between a 900cc Trident and 1972 TR6.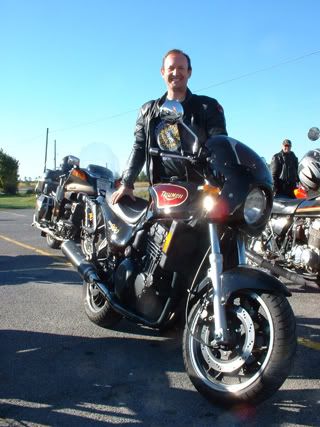 Matthew Beesley: Here is my 1970 T100S. I'm standing in front of the the Bell Covered Bridge, located in the Hoyt area of Sunbury County, New Brunswick. The Bell bridge was built in 1931.

Greg Doyle: The smaller bike is a 600cc Yamaha Radian circa 1986. First year of manufacture. You could ride to Vancouver on it. The second is a 2002, 1100cc, Yamaha V-star, Silverado. The pipes are loud.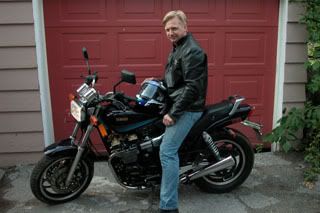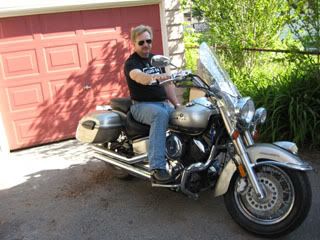 Craig Smith: The Cub left the factory on March 1st 1963 as a T20. The engine and frame numbers match, and as can be seen it has an aftermarket tank, mudguards and silencer. An original tank, alloy mudguards and original silencer are in the process of being fitted.


The Honda is a 2003 CBR954RR, also known as a Fireblade in the UK. It's my regular summer ride. It has covered 55,000 trouble free kms and been thrashed around Shanonville and Mosport on track days with different bodywork fitted.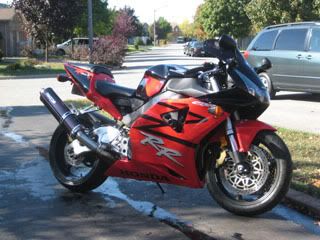 The Suzuki is an original 1984 GS 750E. I've owned it since the late 80s, and it has covered about 27,000km. The only problems I've ever had with the machine were electrical.

This is Craig Smith, apprentice 'poser' just starting out in 1965.