Welcome to Rufus's web pages!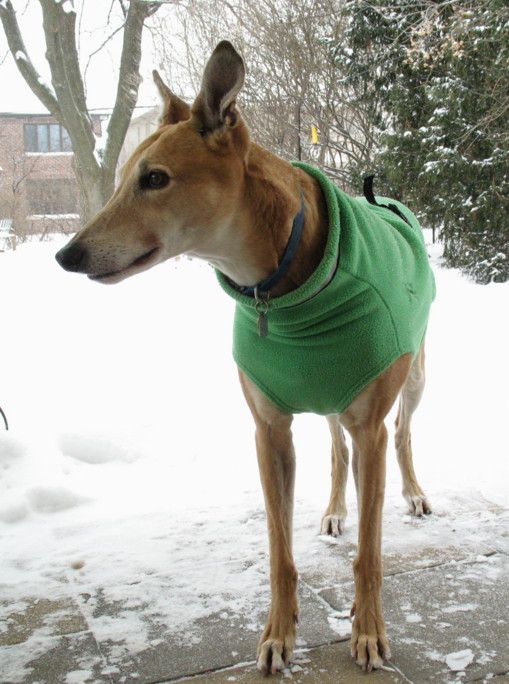 These pages were created during the last seven years of Rufus's life, in Toronto, Canada. Sadly, that life was cut short on August 10, 2015, when he was diagnosed with an inoperable tumour in his abdomen that was causing him great pain. As he was held and comforted by those who loved him most, Rufus was humanely released forever from his suffering. He had lived for twelve years, two months, and twenty days.
This web site, apart from the page you are reading now, is preserved as it was during Rufus's life (except for the replacement, from time to time, of some outdated hotlinks and other material). Use the Menu Bar above to navigate between the sections of the site.
The present page, however, continues to be updated frequently with current news headlines and other items of interest to people who love greyhounds and care about the welfare of these wonderful companion animals, wherever they are around the world. We do this in tribute to the life of Rufus, who remains forever in our hearts and minds.
World Greyhound News Headlines
The only place on the web providing current greyhound news, views, and videos from around the globe, in English
Florida trainer could be suspended after dog tests positive for caffeine and its metabolites July 27, 2017
Junior School in Northfleet, Kent, boasts a resident pet greyhound July 27, 2017
Irish Greyhound Board has spent €47,831 for public relations and crisis management advice up to the end of May this year July 2, 2017 — Experience with animal welfare issues apparently not on the radar when Irish Greyhound Board appoints new CEO July 26, 2017
Racing industry journalist ridicules the idea that any greyhound trainer would provide less than excellent care to a greyhound June 25, 2017 — Opposition MLA in Victoria says proposed greyhound care standards are "overreach" June 29, 2017 — Victoria MLC says proposed welfare reforms go too far July 4, 2017 — Coalition for the Protection of Greyhounds makes submissions on the draft Code of Practice July 4, 2017 — Shepparton's greyhound club manager fears owners could be pushed out of the industry as a result of proposed reforms aimed at improving animal welfare July 26, 2017
Fight breaks out at "family-friendly" greyhound racing event in New Zealand June 27, 2017 — Board members accused of collusion over witness statements June 28, 2017 — Three found guilty of brawling July 15, 2017 — Brawlers fined $8,000 plus $9,150 in costs; trainer fined $2,500 for two positive swabs for Ketoprofen July 26, 2017
New children's book published in the UK: "A Greyt Christmas Tail" July 25, 2017
Five more greyhounds at Bestbet racetrack in suburban Jacksonville, Florida, test positive for cocaine metabolite (with TV news video) July 14, 2017 — Cocaine scandal shows why animal racing needs to end July 17, 2017 — Racetrack denies responsibility for cocaine doping July 17, 2017 — Opinion: Doped up greyhounds add to the disgrace dogging pari-mutuels in Florida July 21, 2017 — Florida's state racing regulators exposed once again as incompetent bureaucrats (with TV news video) July 24, 2017
Springfield, Missouri adoption group celebrates 25 years of rehoming greyhounds July 24, 2017
Greyhound Trust appeals for help with flood of unwanted greyhounds expected when racetrack in Birmingham U.K. closes in 12 days July 17, 2017 — Retired Greyhound Trust is under pressure as track closes (with audio podcast) July 24, 2017
Irish and U.K. exports of greyhounds to Pakistan July 23, 2017
Canidrome will end live racing July 21, 2018
June 29, 2017 —
Canidrome will seek approval for live simulcast dog racing from other countries
July 1, 2017 —
ANIMA has over 250 adopters lined up around the world to take Canidrome greyhounds; needs 400 more
July 2, 2017 —
How to save the 650 greyhounds of the Macau Canidrome: The international campaign "Save the Macau Greyhounds"
July 11, 2017 —
ANIMA appeals to organizations around the world for help in rehoming the Canidrome greyhounds
July 18, 2017 —
Final battle to save Macau's exploited racing greyhounds
July 23, 2017
Giving my greyhound a bath (YouTubeVideo) July 22, 2017
Greyhound constellations in our night sky and the myths that spurred their names (Podcast) July 8, 2017 — Bringing your new greyhound home, Part 1 (Podcast) July 22, 2017
Irish protesters call for end to greyhound exports (with video) July 18, 2017 — Irish greyhounds sent to China, Page 1 Page 2 July 22, 2017
Understanding your greyhound's emotions and reactions July 21, 2017
Seminole County's greyhound reporting measure faces lawsuit July 21, 2017 — Download the court complaint and the text of the injury reporting ordinance (.pdf) July 21, 2017
Miami greyhound track to be replaced by jai alai fronton July 20, 2017 — A landmark ruling July 21, 2017 — Outraged racing industry plans court challenge to decision July 21, 2017 — Politics props up greyhound racing in Florida July 21, 2017
Greyhound Racing South Australia offers rebates to dog owners for the cost of surgery due to certain on-track injuries November 8, 2016 — Trainer calls for injury rebate scheme to be adopted Australia-wide July 21, 2017
Australian Capital Territory legislator says he has had reports of cruelty in the greyhound racing industry July 14, 2017 — ACT racing industry lobbyist complains to police about the legislator's remarks July 14, 2017 — Racing industry lobbyist threatens to sue legislator for defamation July 14, 2017 — RSPCA staff in the ACT know all about abuse, intimidation, and threats of defamation lawsuits July 14, 2017 — Green Party statement on ACT dog racing industry July 14, 2017 — Canberra Greyhound Racing Club starts defamation action against Shane Rattenbury July 20, 2017
Ireland's Longford greyhound track is in serious financial trouble July 20, 2017
Greyhound and its elderly owners are attacked by a pack of hunting hounds while walking on a beach in Cornwall January 15, 2017 — Hunt group apologizes; police investigation continues January 17, 2017 — National Trust faces public backlash for allowing hunting on its land January 18, 2017 — Another greyhound attacked by hunting dogs, this time in Somerset July 19, 2017
Greyhounds are universal canine blood donors July 19, 2017
New South Wales track safety study is released July 13, 2017 — Greyhound racing industry suggests bold plans to make tracks straight to reduce racing dog injuries, deaths July 13, 2017 — Tamworth Greyhound Club named as deadliest in the state July 14, 2017 — Report recommends overhaul of racing industry July 14, 2017 — Plan for straight-track racing is called "welfare on steroids" July 15, 2017 — Bulli track operations manager supports straight tracks proposal July 17, 2017 — President of GBOTA supports straight tracks proposal July 17, 2017
Move over, Golden Retrievers. There's a new family dog in town July 11, 2017 — Greyhound voted Dog of the Decade in UK online poll July 17, 2017
Royal College of Veterinary Surgeons warns not to hire man who poses as a vet and has worked in the greyhound racing industry July 13, 2017
Magnus the "bucket list" greyhound died in April July 13, 2017
Long list of Australian trainers suspended, fined or banned in the last 3 weeks July 5, 2017 — Six more disciplined in NSW and Victoria since last week July 13, 2017
Tasmanian authorities investigate case of greyhound rescued from a "meat truck" destined for a Chinese slaughterhouse July 12, 2017
New Zealand woman claims she and her greyhound were physically assaulted in a racially motivated attack July 12, 2017
New South Wales racing industry insiders try to embarrass each other by referring to previous drug testing improprieties July 11, 2017
Disabled Cornwall woman pleads for return of stolen greyhound statue July 10, 2017
Annual Grapehound Wine Tour in the Finger Lakes district of New York state July 10, 2017
Greyhounds get a one-way ticket from Ireland to South America July 10, 2017
UK greyhound left in parked car on hottest day of the year July 20, 2016 — Twins plead guilty to animal cruelty October 17, 2016 — RSPCA may appeal sentence of 40 hours community service October 21, 2016 — Twins who left pet dog for dead are allowed to keep it despite RSPCA concerns October 24, 2016 — Retired Greyhound Trust expresses concern October 28, 2016 — Twins gave dog up and now she has a good home July 10, 2017
Prison inmates foster ex-racing greyhounds in Western Australia July 9, 2017
Editorial: Racing ban denounced "for good reason" June 25, 2017 — Spiteful racing industry will refuse to work with volunteer greyhound rehoming groups if ACT dog racing ends June 25, 2017 — NSW racing industry is not happy about the ACT ban June 26, 2017 — Greens vow to fight moving greyhound racing from Canberra to New South Wales June 29, 2017 — Racing industry confirms it will sue to keep Canberra's one racetrack open July 4, 2017 — Thoroughbred and harness racing industries decline to join the legal action July 4, 2017 — Volunteer rehoming groups ready to step up, despite industry rep's saying they would not "engage" with them July 9, 2017
Oxford City Council still trying to reopen disused greyhound stadium July 8, 2017
18 cocaine positives in greyhound tests at Florida racetrack (TV news video) June 29, 2017 — The full report (with video and transcript) June 30, 2017 — Cocaine imports into Florida are increasing June 30, 2017 — Ten of the 12 dogs involved are owned by Julia Ward, President of the National Greyhound Association June 30, 2017 — Kennel owner releases statement July 3, 2017 — Florida dog racing "has a drug problem" July 6, 2017 — Dog owner Steve Sarras says the cocaine drug tests are too sensitive July 6, 2017 — National Greyhound Association breaks its silence to issue a brief statement July 6, 2017 — Trainer McClellan has a "checkered past" (with TV news video) July 7, 2017 — Greyhound owner Steve Sarras statement July 7, 2017 — Opinion: Doping scandal adds to reputational issues for greyhound racing industry July 7, 2017
Michigan greyhound did professional quality landscaping July 6, 2017
Adopt a greyhound (Animals Australia video) July 5, 2017
New racetrack planned for southern Vietnam July 5, 2017
Greyhound sustains cuts to feet after Michigan city constructs dog park using landfill contaminated with broken glass July 5, 2017
New South Wales trainer operating without local planning approval is given 12 month reprieve before council takes action against him July 5, 2017
Victoria to hold Greyhound Adoption Day blitz on June 25, with 80 greyhounds on hand June 13, 2017 — Sixty-three greyhounds adopted in Victoria's Adoption Day blitz June 26, 2017 — Victoria's GAP adoptions are now "almost" 1,300 for 2016-17 July 5, 2017
Yorkshire greyhound is rescued from the sea; then her rescuers get pelted with eggs July 4, 2017
Prominent NSW trainer is suspended for a year after assaulting regulatory investigator July 4, 2017
Victoria state government gives thousands of dollars to industry to attract more women to gamble on dog racing June 30, 2017 — Greens politician calls the promotion event sexist July 3, 2017
Bill to abolish greyhound breeders' fund that West Virginia governor vetoed earlier this year is reintroduced into the House of Delegates June 5, 2017 — Senate majority leader predicts the bill will not pass June 6, 2017 — Editorial calls it a waste of time June 6, 2017 — Local firefighters show support for Wheeling greyhound racing June 9, 2017 — Opinion: It's time to end greyhound breeders' subsidies June 11, 2017 — West Virginia budget passes without reduction of greyhound breeding subsidies July 2, 2017
Police probe after woman bitten by greyhound in Carlisle July 2, 2017
Greens call on world airlines to stop international export of racing greyhounds June 30, 2017 — Faruqi says governments can't be relied on to stop cruelty to greyhounds July 1, 2017
USA: Greyhound and horse racing lose to the casinos July 1, 2017
Chair of committee set up to give the NSW dog racing industry "one last chance" is to be named chair of GRNSW June 29, 2017 — Board members announced June 30, 2017 — Iemma's key focus will be the financial viability of the dog racing industry June 30, 2017
Little Greyhound Tales: Jitsu (YouTube video) June 30, 2017
Greyhound rescue in Western Australia June 29, 2017
Pressure builds on Irish government to finally do something to limit greyhound exports June 27, 2017 — Irish Greyhound Board welcomes proposed legislation restricting export of greyhounds June 28, 2017
New South Wales trainer pleads guilty to withholding water from greyhounds on 7 different occasions, contrary to official race day hydration policy. He receives 7 suspended sentences June 23, 2017 — Another NSW trainer pleads not guilty, but is convicted of withholding water on five different race days. She receives a wholly suspended suspension June 28, 2017
Click on the paw
to return to the top of the page