My posts from 2014 are HERE.
Looking Forward to 2014
I have a feeling there's going to be good news for racing greyhounds in the new year! Here are some of the changes afoot in the racing industry around the world:
Iowa: The faltering greyhound industry in Iowa was given a boost a few years back when state legislators allowed dog tracks to open casinos and use the profits from casino gambling to subsidize racing. The catch was that (thanks to lobbying from the greyhound breeding industry) they had to keep making greyhounds risk life and limb by running around an oval track or else lose the right to operate casinos. It's probable that Iowa legislators will revisit this issue in 2014, with a view to decoupling dog racing from casinos. Already the mayor and city councillors of Dubuque (home of one of the two remaining dog tracks) are lining up behind the move to end casino subsidies for racing. Decoupling would likely herald the end of greyhound racing in Iowa.
Florida: The chairman of the Florida state senate committee on gaming has predicted that a comprehensive gaming bill will be passed during the 2014 legislative session, dealing with greyhound racing, among other matters. (Appropriately, considering the subject matter, he even gave betting odds of 50-50 that this would happen!) The senate committee has already held public hearings and will meet in a couple of weeks' time to get down to serious work on drafting new legislation.
This year Florida commissioned a 700-page independent study" on gambling and gaming, then collected 1,686 online comments totaling about 400 pages, and received about 250 pages of email and snail-mail comments.
All 16 dog tracks in Florida lost money on their racing operations in the past three years; the handful that turned an overall profit did so only because of their add-on casino gambling revenue. As in Iowa, above, tracks in Florida are obliged to continue holding sparsely-attended dog races as a condition of being allowed to operate card tables or slot machines.
Expectations are high that decoupling will finally come to Florida racetrack-casinos, perhaps in the new year. Legislators are also considering making it mandatory to record and report greyhound racing injuries. Florida and Alabama are the only greyhound racing states that still don't require such reporting.
Kansas: A stronghold of the greyhound breeding industry, and the home of the National Greyhound Association, where legislation was introduced 11 months ago (Bill HB-2168) to divert some of the state's lucrative slot machine revenues into reviving greyhound racetracks that closed down long ago. Will Kansas go in the opposite direction to everyone else and turn back the clock? Perhaps we shall see the answer in 2014.
U.K.: There are continuing conflicts over attempts to "save" or "revive" greyhound tracks that have closed down for financial reasons. Potential investors have come forward with revival proposals, but strong opposition is coming from local residents and greyhound welfare groups, and there are competing development proposals for housing projects and other facilities, to be built on the site of shut-down tracks. Particular battles to watch in 2014 include Oxford (dog racing v. housing) and London's Wimbledon (dog racing v. professional football — planning inspector's hearing coming up January 22).
Australia: The Legislative Council of the state of New South Wales has launched a wide-ranging parliamentary inquiry into greyhound racing in that state. Over 2000 written submissions have been made by ordinary citizens, veterinarians, track workers, and industry associations, some 800 of which are available for download online. Some of the testimony and written submissions have been quite sensational, and there's more to come. The committee conducting the inquiry will be continuing its public hearings on February 5th and 6th, and a report is expected later in 2014. Major changes in the governance and regulation of the state's racing industry are likely to be recommended.
In Australia generally, public pressure is building for a ban on the export of greyhound racers to Macau, a "special administrative region" of China (like Hong Kong). Hundreds of dogs are sent from Australia every year to race at Macau's Canidrome, where there is no adoption program for retired racers and there are virtually no animal welfare laws to protect them. Greyhounds in Macau are routinely killed when their racing days are over. Watch for this campaign to heat up in 2014.
New Zealand: Three major forces for legislative change arose in 2013. A citizens' petition to the government of New Zealand resulted in a report by the Government Administration Committee, recommending improvements in welfare standards for racing greyhounds. The committee's recommendations include the creation of a database to track every greyhound from birth to death, and revamped rules for breeding and "euthanizing" greyhounds.
Meanwhile a sensational TV report on "euthanasia" practices in the greyhound industry gave a boost to the proponents of welfare reform just last month.
And a third source of impetus for reform comes from a welfare review report commissioned by the racing industry itself. Among its revelations were that over one-third of greyhounds whelped in New Zealand between 2009 and 2011 never raced, that 30% of the greyhounds that retired from racing between 2009 and 2012 were "deceased", and that 77% of trainers had admitted to having "euthanized" one or more healthy dogs.
The N.Z. government is expected to respond with new racing regulations in 2014 as a result of these developments.
Follow my World Greyhound News Headlines service throughout the coming year for continuing news of these and other developments.
Happy New Year, my friends, and here's hoping 2014 brings a brighter future for thousands of greyhounds across the globe!
Note: If you have a Facebook account, you can comment on this blog post HERE.
2013-12-29
Six Ways to Really Annoy Your Human Companions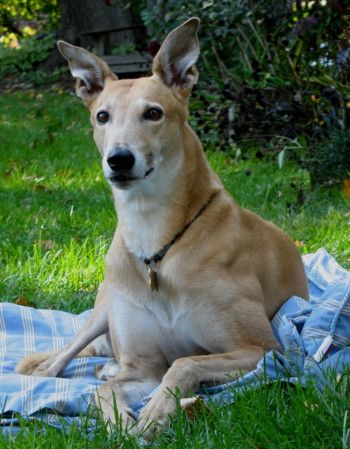 Annoying? Moi?
Okay, houndies, listen up. It's payback time!
1. Don't just pee on a fire hydrant; walk around it so as to get the leash caught in all those places where they put that heavy lubricating grease on the caps and valves. Your peeps will freak out!
2. Make sad eyes at them while they are eating, then slowly slink away to lie on your bed. This will induce severe guilt feelings, causing them to bolt down their food and get your dinner ready pronto. They may even add a little extra, just because you look especially hungry. Then when they call you to eat, feign indifference.
3. Make them walk fast to keep up with you; then suddenly stop and turn your body sideways into their path while you calmly sniff at something. They almost always fall for that one!
4. When they give you a cookie, make sure you let large chunks of it fall out of your mouth onto the ground. Then pretend you didn't notice, and ignore their frantic attempts to direct your attention to the yummy pieces lying right at your feet. You get bonus points if they end up bending over, picking them up, and feeding them to you.
5. When crossing a busy street with your human companion, stop halfway across and give yourself a classic "whole body shake". Or better yet, sit down in the middle of the road and scratch your ear with your hind leg. It never fails to annoy!
6. When scouting for a place to deliver a fragrant package, if you feel it's going to be a real soft-serv, try to choose one of the following locations: in the middle of a sidewalk; on top of a low ornamental shrub on someone's front lawn; on wood-chip mulch; or on a nice bed of dried pine needles (guaranteed to punch dozens of holes in any plastic bag used to clean it up)! Much hilarity ensues.
The best part of all this is that there's no downside: Even after doing these things, the annoyance will fade. You'll be forgiven and they'll love the heck out of you just the same!
2013-11-25
It's About Time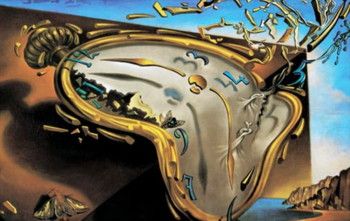 I don't know what's come over those crazy humans here at the Spa.
Today my BFF was an hour late getting out of bed to take me for my morning constitutional. In fact, there was actually daylight outside by the time we got out the door. And HWMNNBO was an hour late taking me out for my mid-day walk. How do I know all this? Well, I have a pretty good sense of time. The attendants say I've got a built-in atomic clock, but that's a bit of an exaggeration.
They go crazy like this every once in a while. One day (I think it was some time last spring) they suddenly started feeding me and walking me an hour early! And I seem to recall they've done this kind of thing before, several times. Maybe a year ago, but I can't exactly remember; let's say it was about seven dog years ago.
You'd think they would be able to stick to the daily schedule, with all the clocks and watches they've got around this place. In fact, I caught one of them "fixing" a clock late last night. It's like they're trying to mess with my mind. Yes, I'm on to your tricks, Mr. and Ms. Spa Attendant!
It remains to be seen whether they will be late with tonight's dinner, as well. But I'm guessing my tummy's going to be gurgling a little longer than usual before they get around to it.
Well, I'll show them. I'll just stay up late tonight. About an hour. And we'll see how they like that!
2013-11-03
Confusing Trucks
I have a thing about soft ice cream. I love it! Consequently, I also have a thing about ice cream trucks, which is where that magical goo comes from.
Trouble is, I can't always tell which white-coloured trucks actually give out ice cream. For example, last week while I was out on a walk I saw a big white truck parked at the side of the road, across the street. It had its motor running, just like the freezer motor that runs constantly on an ice cream truck. It had a stainless steel ledge that folded down from an upright position, leaving a gap in the side of the truck that looked to me very much like a kind of window. And there was a man wearing a hard hat, standing on the pavement beside the truck, drinking coffee and resting his cup on the ledge. To me, this was obviously a one-person lineup at the window of an ice-cream truck!
See for yourself; don't they look exactly the same?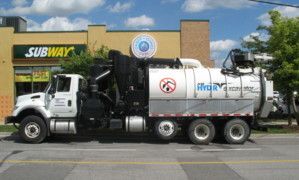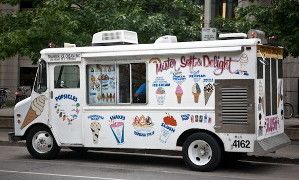 So I did the logical thing and headed over to stand in line. Or at least I tried. But HWMNNBO wasn't having any of it. He held me back on the leash and wouldn't even let me cross the street. I tried my usual tactic of standing firm and staring towards where I wanted to go, but to no avail. Then he explained to me that this was not really an ice cream truck, and we would have to move along and forget all about ice cream.
I'm still not sure I believe him, and I certainly didn't forget about ice cream. But then today we saw another ice cream truck – a real one – and I had a tasty treat. So, all is forgiven. For now, anyway.
2013-09-18
Health and Mortality Statistics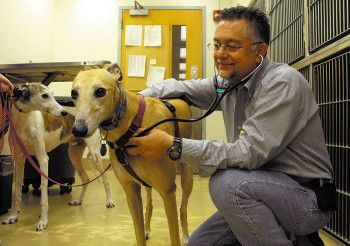 Dr. C. Guillermo Couto has resigned from the veterinary faculty of Ohio State University, with "mixed feelings". The OSU Greyhound Health and Wellness Program that he founded intends to carry on; but without Dr. Couto and Dr. Christine Kellogg, who also has departed after only one year, it will be difficult to maintain the high standards and high profile of their work on behalf of us greyhounds.
As of this writing, I'm still waiting to hear what lies ahead for Dr. Couto. There's a Facebook group formed to follow his career.
This is a good time to reflect on Dr. Couto's extensive contributions to veterinary (and public) knowledge about our breed. I first met him last year and he instantly became my hero.
I've noted before (HERE and HERE) how difficult it is to get reliable vital statistics about retired racing greyhounds, because of the lack of any central registry or data collection regime. As a result, much of what we think we know about retired racers is based on anecdotes and subjective impressions, rather than empirical science.
So it was a great service to the greyhound adoption community when, in 2007, a group of researchers at Ohio State, including Dr. Couto, reported on a scientific survey they had conducted among 441 greyhound owners of 747 greyhounds in the United States. They gathered statistical data about greyhound behaviour, health, and mortality, covering the years 2005 and 2006. The results were peer-reviewed and published in the Journal of Veterinary Internal Medicine. You can download the report in .pdf format HERE.
While the study was not without its limitations (some of which you can read about in the report itself) it remains, to my knowledge, the most authoritative, comprehensive, and recent source for statistics on the morbidity and mortality of North American ex-racers.
Here are some of the more notable statistics revealed in the report:
● Of the greyhounds who had had a racing career lasting a year or more, 9.4% had raced for more than 4 years. Since greyhounds don't start racing before 18 months of age, those dogs didn't retire until they were well past 5 years of age.
● Of the 747 greyhounds included in the study, 113 (15%) died or were euthanized during 2005 and 2006. The respondents were asked to report the causes of death. These are summarized in the bar chart below, which I lifted from the report.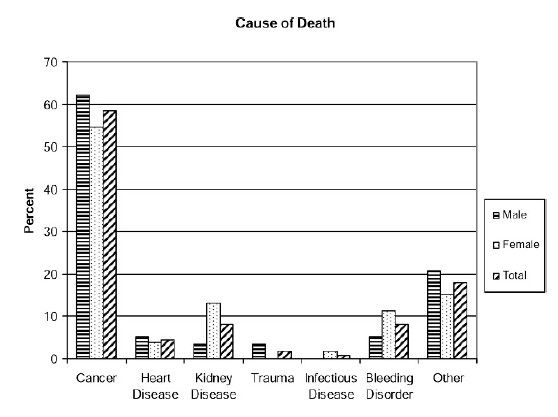 ● By far the leading cause of death during the two-year study period was cancer – 58%. This dwarfs the next three most prevalent causes, namely "orthopedic" (included in the "Other" category), kidney disease, and bleeding disorders.
● Almost half (32/66 = 48%) of the dogs who died of cancer had Osteosarcoma, sometimes called OSA. It's a bone cancer that affects greyhounds' leg joints, mostly in the right front leg (50% of cases) and the left front leg (25% of cases). It's aggressive, painful, and incurable.
● The study shows that the incidence of OSA far outstrips that of any other type of cancer. Among the 94 greyhounds that had been diagnosed with cancer during the two-year study period (including those who had died and those still living), 42 had OSA. The next most commonly diagnosed were the blood-based cancers, Hemangiosarcoma and Lymphoma, with only 8 cases each.
● Less than 6% of all greyhounds in the study had Osteosarcoma. This is the good news. The bad news is that the study only collected data in a two-year window; it did not ask the owners for data on any greyhounds that had died of OSA before that window, nor, of course, could it report the number of healthy dogs in the study who would be diagnosed with OSA after 2006. Sixty-one percent of the dogs in the study were under 6 years old. Other studies indicate that the incidence of OSA increases with age, the average age at diagnosis being 9.9 years.
● Some of the more commonly occurring conditions and diseases among the study subjects were: storm phobia – 27%; noise phobia – 20%; separation anxiety – 19%; arthritis and polyarthritis – 18%; bald thighs – 16%; racing injuries – 14%; diarrhea – 10%; corns – 6%; and food allergy – 5.5%. Tick-borne diseases came in at 6.5%, mostly Babesia canis and Lyme disease. The authors noted that the figure reported for hypothyroidism (11%) may have been an exaggeration due to over-diagnosis, as greyhounds normally have lower concentrations of T4 and fT4 in their blood than other dog breeds – something that not all veterinarians are aware of. Similarly, the 5.3% incidence of heart murmur (by far the most prevalent heart/circulatory diagnosis reported in the study) may in most cases be of no clinical significance.
● On the whole, we're a pretty healthy breed. None of the 747 dogs in the study were reported to have diabetes, Addison's disease, congenital heart defects, hepatitis, breast cancer, prostate cancer, or fibrosarcoma.
● Eleven percent of the dogs in the study were over 12 years old. Although the owners were asked to provide the age at death of each greyhound that had died during the study period, none of this data is provided in the report. It would have been useful to have such numbers, as a statistical indication of greyhound longevity.
Here's hoping that Dr. Couto and other researchers follow up this study with more research into the statistics of greyhound behaviour, lifespan, epidemiology, and mortality.
2013-08-14
Greyhound Racing in Canada – Part 2
The legal restrictions on gambling and gaming that I described in Part 1 have effectively prevented the establishment of a greyhound racing industry in Canada. Nevertheless, a bold attempt was made in the city of Toronto back in 1986 to hold commercial greyhound races, complete with gambling on their outcome.
At that time, the greyhound industry in the United States was booming, with new tracks being opened in several states, and record levels of gambling revenue. Entrepreneurs were seeing opportunities to cash in, and the untapped potential of the Canadian market was, for some, an alluring prospect.
Against this background of optimistic profit-seeking, a would-be racing promoter rented the 9,500-seat Allan M. Lamport Stadium in Toronto for 22 consecutive Friday nights, beginning May 23, 1986, for the purpose of holding greyhound races. The initial plan was to have seven races per night, with six dogs in a race.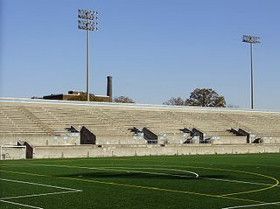 The object, of course, was gambling. As pari-mutuel wagering would be clearly illegal, the promoter was proposing instead to sell the patrons two-dollar tickets bearing the numbers of two dogs in a race. The winning tickets would be the ones bearing the shirt numbers of the first- and second-place dogs in the race. It was somewhat like exactor betting, except for the crucial difference that the ticket holders would not know which two dogs their ticket was good for before they purchased it. The shirt numbers assigned to each dog would be selected randomly, using a bingo-ball machine, after the tickets had been sold, immediately prior to the race. No knowledge of the past performance of any of the dogs would be of any assistance to the wagering public. In effect, it was like a lottery. In fact, the promoter's name for it was "exacto-lotto".
Which was a problem. Lotteries are not legal in Canada unless they are licensed by a provincial government, and the promoter, Ontario Greyhound Racing Association Inc., refused to apply for a licence from the government of Ontario. None of the sale proceeds from the tickets would be kept by the promoter, it argued, and all proceeds would be paid out to the winning ticket-holders, except for 16.67 percent off the top, which would go to charity. The promoter would make money only from admission fees, concession stands, program sales, and advertising. (It expected crowds of over 4,000 people to attend the races.) So the company maintained that a lottery licence was unnecessary.
Facing long odds
There was no shortage of opposition to the scheme.
"The greyhound is the Japanese car of the racing industry," said Frank Drea, chair of the Ontario [horse] Racing Commission. "It's cheap low-wage competition."
"Where there is money to be made, the animals become gambling devices to be used and destroyed," said Michael O'Sullivan, Canadian field representative with the World Society for the Protection of Animals.
The horse-racing industry opposed it. The Toronto Humane Society opposed it. And most important of all, the government of Ontario opposed it.
As you have probably guessed, the venture failed. Threatened with criminal charges if it proceeded with the lottery plan, the promoter attempted to hold the races anyway, without any "exacto-lotto" or other gambling. But instead of building a proper racetrack, the promoter came up with a $20,000 "portable" track, and built its own electro-mechanical lure system. Rain and mechanical problems with the track and the mechanical "rabbit" forced cancellation of the first three Friday night dates.
Finally on "Friday the Thirteenth" of June, 1986, after a delay of almost an hour – again because of mechanical problems – the race meeting began, in front of a crowd of about 100 people. During the first two races, the mechanical "rabbit" lure failed, and the dogs ran past it in confusion. In the third race, the dogs caught up with the lure at the finish line. In the middle of the fourth race, the lure stopped once again. Only four of the seven scheduled races were deemed "official". And no wagering took place.
It was at this point, or shortly afterwards, that the whole misadventure ground to a halt. As far as I know, no further attempts were made to stage races, and it was never mentioned again in the mass media.
The method behind the madness
On the face of it, it's hard to imagine that the promoters could expect their business plan to succeed. So why did they do it?
In my opinion, it was an attempt to mobilize public support for dog racing, in order to bolster lobbying efforts that had been going on for several years in Ottawa, to amend the Criminal Code. It was part of an ongoing strategy to gain a toehold in Canada for the greyhound racing industry. Accordingly, the promoters considered it worthwhile, despite the odds, to spend money on a high-profile dog-racing venture in English Canada's largest city.
In the end, however, the lobbying efforts proved futile. The horse racing industry in 1986 was too powerful and too politically connected for dog racing to be allowed in. Although greyhound racing in the USA was still enjoying boom times, public opposition was beginning to grow, and Canadian legislators could not have been unaware of that.
What neither the lobbyists nor the legislators could have foreseen in 1986, however, was that within a further five years, the dog racing industry in the USA would peak, and go into a long decline, from which it has never recovered. There's no reason to believe the same would not have happened in Canada, had greyhound racing taken root here.
2013-07-12
Greyhound Racing in Canada – Part 1
Contrary to what you might have read or heard, dog racing is legal in Canada. That is to say, there's no law forbidding it. In fact, we have an active, multi-breed dog racing organization called the Canadian Amateur Racing Association.
The catch, however, is that it is illegal to operate a pari-mutuel wagering system in connection with dog races – or, for that matter, any other kind of animal races, except for horses. That makes it pretty well impossible for any would-be promoter of commercial greyhound racing to come up with a business plan that would make enough money to support an entire greyhound racing industry. Without gambling revenues, greyhound racing is simply unsustainable economically.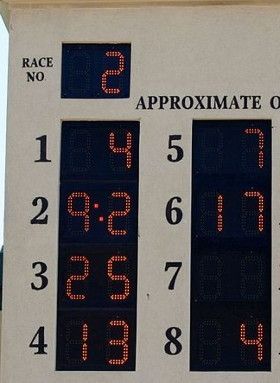 As in the case of horse racing, pari-mutuel wagering is the very lifeblood of the greyhound racing industry in the United States and most other countries that have commercial dog races. Pari-mutuel wagering is more familiar to Canadians as the computerized horse-race betting system that features large "tote boards" displaying the odds for each horse and the amount of money wagered on each horse to win, place, or show. It allows for unlimited numbers of participants and unlimited amounts of money to be bet. In the minutes before a race begins the pari-mutuel computer adjusts the odds for each horse according to how much money the betting public has placed on that particular horse to win. The payout for a winning bet depends entirely on the last odds calculated before the start of the race.
Race tracks operating pari-mutuel systems take a percentage of the money wagered off the top, before the winning ticket-holders are paid off. This percentage is usually fixed by legislation, and it's the race track's main source of revenue.
Canada's Criminal Code was first enacted in 1892, in late Victorian times. Operating a gambling establishment or carrying on business as a betting bookmaker were criminal offences under the Code. But out of that basic prohibition were carved a series of exceptions over the years, so that today in Canada we have not only pari-mutuel betting at horse racing tracks, but also casinos, lotteries, bingo, off-track betting, betting on professional sports, slot machines, video lottery terminals, and other kinds of wagering and gaming. So if the Criminal Code expressly exempts your gambling activity, it's legal. If not, it's illegal.
No exemption for greyhound pari-mutuel betting has ever been made in the Criminal Code. There are probably many reasons for this, but I can think of two in particular: First, the horse racing industry is well established in Canada, and it's keen to keep out any competitors, especially as they are now seeing their revenues declining every year. Second, the greyhound racing industry lacks friends in high political places.
Mind you, this hasn't stopped occasional and sporadic efforts to stage greyhound races just for "fun", without any expectation of profit from gambling. Nor has it stopped entrepreneurs from trying to find ways around the gambling and gaming laws.
One enterprise I know of operated completely within the law (I use the past tense because I have not found any evidence that it still exists). This was the Calida race track, located in Sylvan Lake, Alberta, as of about five years ago. Its Facebook page appears to have been abandoned in 2009.
According to this website, the Calida track made its money entirely from charging an admission fee and running a concession stand. Patrons who wanted to gamble on the outcome of a race would form "pools" of ten people or less. These worked a lot like office pools; members would "pool" their bets on a race, and the money would be shared, within the pool, among those who picked the winning dog. This is perfectly legal, because the Criminal Code, in Section 204(1)(a)(iii), expressly allows pool betting "between not more than ten individuals".
Here in my own city of Toronto, another commercial greyhound racing venture was attempted, 'way back in 1986. I'll tell you what I know about that in Part 2.
2013-06-25
Yes, I'm a Rescue
Today is the fifth anniversary of my Gotcha Day – the day I first came to live here at the spa. It was less than a week after my fifth birthday, so I've now actually spent the second half of my life here in retirement from racing.
Many people I meet on the street ask if I'm a "rescue", by which they mean to ask whether the spa attendants raised me from a puppy or adopted me as an adult. There are some greyhound owners – fans of the racing industry – who bristle at that question, and at the whole notion of "greyhound rescue". They choose to believe that the word "rescue" should only apply to dogs who were formerly abused or treated with cruelty, and that racing greyhounds never really fit into that category.
If you ask them what would have happened to their dog if he hadn't been given to the rehoming organization that they adopted him from, they will tell you that some other rehoming organization would have taken him and adopted him to somebody else. They like to perpetuate a fanciful view of the greyhound industry in which there are more than enough adoption agencies, foster homes, and forever homes available to handle all of their surplus-to-needs greyhounds.
The reality is not quite so cheery. Only a fraction of the greyhounds bred for racing end up being adopted as companion animals, and this is the case in every country where greyhound racing exists, including the United States, where I came from.
I've mentioned before that vital statistics about racing greyhounds are hard to come by, because it's nobody's job to collect and publish them. Most government and private regulatory bodies in the world don't even require the reporting of racing-related injuries and deaths, let alone information about what happens to the dogs after we are no longer of use to the racing industry. Those of you who follow my World Greyhound News Headlines service will be aware that it was only last week – coincidentally, on my birthday – that new regulations came into effect in Florida that require the reporting of all racing-related deaths (but not injuries) to the state. There's no requirement, however, that the state aggregate the data or make it available to the public. And the National Greyhound Association, which keeps a registry of racing greyhounds, does not collect injury, death, or adoption statistics. The NGA isn't a greyhound welfare organization; it exists only to promote the interests of the greyhound racing industry.
So what data do we have to work with? One source tells us that the NGA registered 128,593 greyhound litters in the twenty years from 1986 to 2006 (including my own litter in 2003). That's over 6,400 litters per year, on average. The same source tells us the standard litter size is 6.52 dogs, giving us an average annual whelping of over 40,000 greyhounds. At the same time the American Greyhound Council, an organization allied with the NGA, tells us that about 20,000 greyhounds were adopted in 2009. So if 40,000 are born and only half that number adopted, what happens to the other half? That's 20,000 greyhounds just disappearing every year.
Looked at another way, the above figures show well over 800,000 greyhounds born between 1986 and 2006. The American Greyhound Council says that since the early 1990s (just about when those dogs born in 1986 would be finished their racing careers) up until about 2010 (when the 2006 dogs would be about ready to retire) "more than 280,000 retired racers have been placed in loving homes across America". Please don't try to tell me that the other 520,000 greyhounds all happily lived out the rest of their natural lives on a farm somewhere!
If I hadn't been rescued when I was no longer able to race, I would have been one of those 520,000 who never made it to life on the couch as a companion animal. So I'm both proud and grateful to be able to proclaim that, yes indeed, I am a rescue!
2013-05-26
Happy Birthday to Me!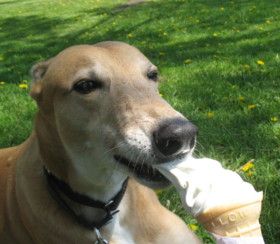 I made it – I'm ten years old today!
The spa attendants have promised me some canned salmon with my kibble today, and I can hardly wait. We're going for an extra long walk in the park, and if we happen to see an ice cream truck, well, you know what's going to happen!
I haven't been blogging much lately, because I spend a lot of time outdoors in the sun, and I don't have a laptop. (In fact, I don't even have a lap.) What a change from winter, when I was going crazy being indoors for 22 hours a day!
As usual, the firecrackers have been going off in the neighbourhood lately (who knew I was so popular?) and I really don't like that sound. I hope it's over, now that my day has come.
It feels good to be ten, and I'm looking forward to the summer. I plan to make the most of every day, for as long as the days keep coming.
2013-05-21
St. Patrick: the Original Dog Whisperer?
There is very little known about St. Patrick that is verifiable fact. But the legends handed down to us tell of a man who had a very special relationship with dogs. In fact, dogs figure prominently in the stories of the miracles he is supposed to have performed.
It's generally agreed that St. Patrick was not actually Irish. In about the year 387, the story goes, he was born in Roman-occupied Britain, in the part that is now Scotland. As a teenager he was abducted from his homeland by Irish marauders, taken back to Ireland, and made a slave to an Irish chieftain. He was put to work as a shepherd, where for six years he worked closely with herding dogs and got to know their ways.
After receiving a "divine inspiration" that told him he could escape his bonds of slavery if he headed off to the sea coast, he did just that. There he encountered a band of pirates who were preparing to sail to Gaul with a shipload of Irish wolfhounds. These big dogs were highly prized as guard dogs; deer, wolf, and boar hunters; and dogs of war.
The modern breed we know as the Irish Wolfhound is but a pale reflection of the massive and terrifying dogs known as wolfhounds in fifth century Ireland. They weighed as much as 80 kg (175 lb.) and were bigger than the average Irish human of those days. The Romans employed Irish wolfhounds as entertainment in the Colosseum, pitting them in combat against wild animals and human gladiators.
The pirates were reluctant to sail off in a small ship loaded with these unruly and fearsome beasts. But the Scot who would later become St. Patrick managed to persuade them to let him sail with them, in exchange for his keeping the dogs calm and under control. Relying on his dog-management skills and his special rapport with the animals, he was as good as his word. In this way he was able to escape his life of slavery in Ireland.
The voyage was ill-fated, however, and the ship was wrecked on the coast of Gaul in a storm. The men and dogs made it to shore, but the ship's food provisions were lost. Soon the men were starving. As they made plans to kill and eat the wolfhounds, their passenger, the dog-wrangler, prayed for divine assistance. This promptly came in the form of a pack of wild boars that wandered out of the woods. The dogs quickly set upon them, and everyone had plenty of pig meat for days to come. This was the first "miracle" that was later attributed to St. Patrick, in support of his beatification.
Legend has it that the second "miracle" occurred much later, in about the year 432, when the canny Scot returned to Ireland. He had spent many years in Europe as an ordained priest and was given the Latin name Patricius. Pope Celestine I had made him a bishop and sent him back to Ireland, along with a group of priests, tasked with converting the heathens to Christianity. Upon their arrival on the Irish shores a local warlord sent his ferocious wolfhound Luath to attack and kill them. But the brave "Patrick" miraculously calmed the giant beast by falling onto his knees in quiet prayer. Once again, St. Patrick's dog-charming powers saved his life and those of his brothers. The dog's owner was so impressed that he welcomed the men to Ireland and even helped them found their first church.
2013-03-16
Charity for Some
Today, the last day of February, marks the end of a month-long charity fundraiser for the McGrath Foundation of Australia, which helps breast cancer survivors by funding special breast care nursing programs in Australian communities. The fundraiser consisted of a pledge from the governing body of greyhound racing in the state of Victoria to pay $500 to McGrath every time a dog wearing the pink number 8 racing silk wins a race in that state during February.
The 2013 campaign, dubbed "Go the Pink Dog", ended up raising over $50,000 from Greyhound Racing Victoria.
In exchange, the McGrath Foundation promotes greyhound racing in Victoria, encouraging the public to attend races in order to cheer on the number 8 dog. That's what GRV gets in return for their $50,000.
Everybody wins – the breast cancer survivors, the nurses who support them, the prestigious McGrath Foundation, and of course the greyhound racing industry. Everyone except the greyhounds, and the charities that they depend on for their survival after their racing days are over.
Last night, February 27, at the Ballarat Greyhound Racing Club, near Melbourne, Victoria, in the 4th race, the number 8 dog in the pink silks didn't win. Kianna Princess never even made it to the first turn. She broke her left hock (a common racing injury) and was killed by a veterinarian (or "euthanased", in the Australian dialect) at the track.
There was no $500 donation for the McGrath Foundation. And there was no second chance for Kianna Princess, whose official status is now listed as "Retired".
Still, it was so nice of the McGrath Foundation to encourage people to go and watch Kianna Princess race, all in the name of charity. I'm sure they all had a great time.
Coincidentally, Kianna died on the fifth anniversary of my last race. That's right, friends, I've been "clean" for five years now.
2013-02-28
Xtreme Genealogy
I've always been fascinated with the idea that dogs and humans have a common ancient ancestor, who lived millions of years ago. What would such a creature be like, I wondered? More human-like, more dog-like, or something quite different from both? Whatever it was, it must have had the same basic body plan as all of us: four limbs with toes/fingers, eyes, nose, ears, teeth, jaws, heart, lungs, body hair/fur, and similar blood circulation and digestive systems, among other characteristics.

Artist: Carl Buell
Well, some very smart scientists seem to have figured it out. With the help of sophisticated computer programs that compared over 4,500 physical characteristics among 86 different species of mammals, both living and extinct, they have recently been able to calculate when the last common ancestor of all modern placental mammals lived, and what that creature must have been like.
As the accompanying artist's impression indicates, the ancestor animal was probably a tree-climbing, insect-eating mammal, somewhere between the size of a shrew and a mid-sized rat. It was furry and had a long tail. It lived within the first half-million years after the extinction of the dinosaurs, some 66 million years ago.
Once the dinosaurs had been removed as the rulers of the planet, the small mammals that survived them underwent an explosive period of evolution into many new species, as they took over the various ecological niches that the dinosaurs had previously occupied. Within the first ten million years after the dinosaur extinction the descendants of the little guy in the picture had diversified so much that they included the ancestors of Primates (including humans), Carnivores (including dogs), and all the other major mammal groups. And millions of generations later, here we all are!
2013-02-26
Jinxed!
It seems I jinxed the weather around here when I mentioned in my last blog entry that we hadn't had a lot of snow the last couple of years. On February 8 we got almost 30 cm (11 inches) of snow – the most I can remember seeing in a single day, though I'm told it's far from a record amount.
Not that I'm complaining. I loved it! I was racing around in the deep snow (see picture) and having a great time.
But it didn't last for long. Thawing and freezing cycles followed soon after, leaving the snow alternately slushy and crusty, and allowing big pools of trapped melt-water to form on sidewalks, only to freeze over at night.
Ah, well. As HWMNNBO likes to say, "It's all part of life's rich pageant."
– – –
Speaking of pageants, I just watched the annual parade of genetically engineered freaks called the Westminster Kennel Club dog show. Did you see the dog that represented the greyhound breed in the hound group? The so-called "breed standard" for AKC greyhounds says they ought to have deep chests and long necks; consequently, the competition is on among Kennel Club greyhound breeders to come up with dogs that have ever longer necks and ever deeper chests. Some day soon, they'll be showing greyhounds that look like llamas with their chests dragging on the ground.
The handlers on these dog shows are always pulling the greyhounds' hind legs backwards, to make them stand in an awkward pose. Here's a picture of what I mean. I've never seen a racing greyhound stand like that, and I notice that our Kennel Club cousins are always reluctant to do so as well, prompting more leg-pulling and prodding by the handlers.
Do they really think this sort of thing is helping the breed?
My favourite part was when they awarded Best In Show to the Affenpinscher, an ugly, monkey-faced, bad-tempered, yappy little dog from a breed known for a whole raft of congenital defects — eye, joint, hip, teeth, thyroid, and heart problems are common.
2013-02-13
Winter Walkies

T-shirt? Check. Sweater? Check.
Collar? Check. OK, let's go!
I love my winter walks! I'm nice and warm in my coat or sweater, and I don't have to be constantly seeking shade, as I do in the hot summer sun. I can concentrate on what I love to do most: sniffing and exploring.
Of course, I don't like it when it's icy because I slip, and I get paranoid about falling down. And when they put salt on the sidewalks it sometimes gets lodged in my paws, and I have to stop until someone cleans it from between my toes. But most of the time I don't have any problem walking about.
The spa attendants, however, constantly grumble about how cold it is. They also complain about the heat in the summer. What a couple of wimps!
I suppose I'm lucky to be able to go walking in the middle of the day. Most of the dogs I encounter on week-days are not actually outside, but barking at me through a window from inside their homes. I assume they get walked in the early morning, and then again at night when their humans get home from work or school. Not much sunshine for them in the winter, except on weekends, when I usually see a lot more of them out walking.
Some people hire dog walkers to take their dogs out during the day. Around these parts, that usually involves a ride in a van, with up to a dozen other canines of various sizes, shapes, and dispositions, to a local off-leash park where they can all run free. I never see packs of dogs being walked on the street.
This is my fifth winter here in Canada, and I've noticed how those winters have changed, even over such a short period of time, at least in the area where I live. The last couple of years, we have had noticeably less snow and many mild stretches. But while climate change will undoubtedly have its effects here (and everywhere else), these local year-to-year changes are mainly just natural fluctuations in the overall climate. No doubt we will have many more cold, snowy winters in the coming years, and I hope to be around to enjoy them!
2013-01-29
Do Greyhounds Love to Run?
I wish I had a dried liver treat for every time I've seen or heard someone say that greyhounds "love to run".
The thing is, those same people will often tell you, in the very next breath, that retired racing greyhounds are "couch potatoes" that "don't need a lot of exercise", and "make great apartment dogs". "A good run once a week" is all we need, they'll say. And they're absolutely right.
But does that sound like a dog that loves to run? Shouldn't a dog that loves to run be living on a farm or a ranch, instead of living in a small home and walking on the end of a leash all the time?
What does it mean, anyway, when they say we "love to run"?
On first thought, it's a no-brainer. Of course greyhounds love to run! All dogs do, even ones that don't run very fast, like Dachshunds. It's an integral part of our play activity and of simply getting from point A to point B in a hurry. When we are prevented from running, because of disease, injury, disability, confinement, or whatever, we miss it a lot.
The thing about greyhounds, though, is that we run faster than other dogs. Does that mean we "love" running more than they do? And if so, does that explain why we run faster? I don't believe so.
Our running ability is genetic, the result of thousands of years of selective breeding as hunting (not racing) dogs. When we want to run, or feel obliged to run, we can run very fast. That doesn't mean we're born with a natural love for running. Being good at doing something and loving to do it are not necessarily the same thing. In fact, many greyhounds flunk out of race training; I know several who are now "retired" from no racing career at all. They could run fast, all right; I guess they just didn't "love" it enough.
Greyhounds don't love to run any more than any other dogs do – in fact, probably less. I know several Jack Russell terriers and Golden Retrievers who can't run as fast as I do, but love to run much more. They'd run for hours if you let them. I'll usually run the length of the backyard (about 20 metres) down and back, down and back, and then I'm done for the day. About eight seconds, and that's it. Have you ever heard the expression "lazy as a hound"? I just Googled it and got over 23,000 hits.
When I was racing, I used to look forward to race days, when I could escape the mind-numbing kennels for a few hours. It seemed like freedom to me, though it's nothing compared to my life now. Did I "love" to race? I don't know; I did it because it was expected of me, and I received praise when I did it well. It was simply my life, and I knew of no other.
We should be careful about presuming to know the mind of other animals. Some are capable of amazing feats, and do them fast. Does that mean they love to do them? Do bats love to fly? Do basilisk lizards love to run across the surface of a stream? Do gibbons love using their arms to swing from branch to branch at speeds approaching that of a running greyhound?
Do you suppose humans could justify holding kangaroo races by saying that they "love to hop"? Or is it something that they just do, without any emotional attachment or motivation, because it's in their nature to do it?
2013-01-14
Happy New Year!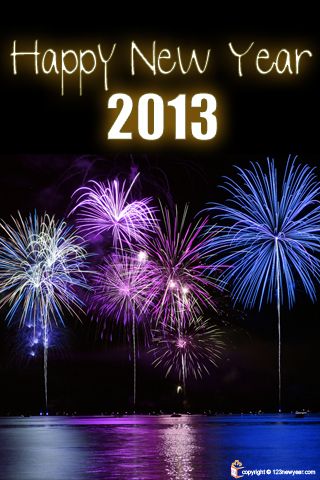 The start of a new year is a time for hope, a time to be optimistic. It's almost as if we've been given a do-over for the past. Another year lies ahead, and if we are lucky and do the right things, we can make it all turn out better than it did last time. As Oprah Winfrey said, the new year is "another chance for us to get it right."
My wish for everyone is that you not give up on your hopes and dreams. May we all find ways to make our stay on this planet more enjoyable and satisfying for ourselves and each other. And if all else fails, hug a greyhound. You'll be glad you did.
2013-01-01
My posts from 2012 are HERE.
My posts from 2014 are HERE.