Welcome to Rufus's web pages!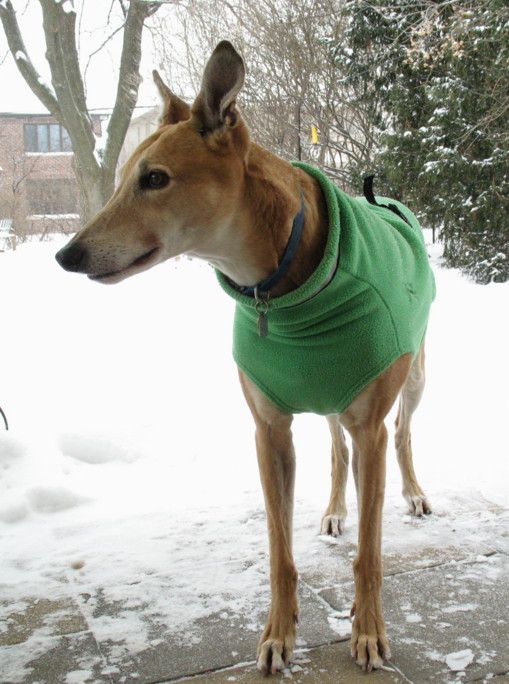 These pages were created during the last seven years of Rufus's life, in Toronto, Canada. Sadly, that life was cut short on August 10, 2015, when he was diagnosed with an inoperable tumour in his abdomen that was causing him great pain. As he was held and comforted by those who loved him most, Rufus was humanely released forever from his suffering. He had lived for twelve years, two months, and twenty days.
This web site, apart from the page you are reading now, is preserved as it was during Rufus's life (except for the replacement, from time to time, of some outdated hotlinks and other material). Use the Menu Bar above to navigate between the sections of the site.
The present page, however, continues to be updated frequently with current news headlines and other items of interest to people who love greyhounds and care about the welfare of these wonderful companion animals, wherever they are around the world. We do this in tribute to the life of Rufus, who remains forever in our hearts and minds.
World Greyhound News Headlines
The only place on the web providing current greyhound news, views, and videos from around the globe, in English
Greyhound racing threatened in Iowa November 8, 2018 — Iowa Greyhound Park still hanging on, thanks to subsidies November 9, 2018 — Track could suffer further revenue loss, since many go there to bet on Florida races November 8, 2018 — Racing industry is running scared November 29, 2018 — Iowa Greyhound Park manager interviewed on radio (podcast) December 4, 2018
Queensland trainer caught live-bating greyhounds gets his ban reversed December 3, 2018
Vermont man rescues greyhound from burning house November 30, 2018
Tavern in Western Australia provokes Facebook row over greyhound racing November 30, 2018 — Social media attack over Perth pub owner's greyhound syndicate November 30, 2018
National Greyhound Draft scheme seeks to encourage Australians to invest money in greyhound racing November 30, 2018
Greyhound went missing in Portugal in August 2017; calmly shows up at home over a year later November 29, 2018
Ayuda, a new aid association for mistreated greyhounds in Languedoc, France November 29, 2018
Two Irish dog tracks will start early morning racing, to help gambling industry giant supply 24/7 dog racing video worldwide November 28, 2018 — Expansion of greyhound gambling draws negative reaction November 29, 2018 — Opinion: "The timing of these fixtures is purely for the broadcast companies" November 29, 2018 — Introduction of morning greyhound racing "truly shocking" (Radio podcast) November 29, 2018
Exposé reveals sick, injured, stressed greyhounds imprisoned and used as blood donors by Hemopet in California October 11, 2018 — PETA news release October 12, 2018 — Hemopet disputes abuse claims October 12, 2018 — Protesters to demand release of Hemopet greyhounds October 15, 2018 — Garden Grove greyhound "rescue" allegedly profits off of racing dog blood October 16, 2018 — Actress Lily Tomlin joins call to boycott Hemopet November 15, 2018 — Tomlin also writes to racing industry leaders in all the remaining dog racing states November 15, 2018 — Meet 10 greyhounds exploited for their blood by Hemopet November 28, 2018
Florida groups not fretting over greyhound adoptions November 28, 2018 — Thousands of dogs will need new homes, but not right away November 28, 2018 — No dire emergency for Florida's racing greyhounds November 28, 2018 — Palm Beach Kennel Club will continue dog racing for the next two years, with over 1,000 greyhounds November 28, 2018
Celia Cross Greyhound Trust exposes squalor inside a former Surrey racing kennel November 18, 2018 — The hidden horror of greyhound racing November 28, 2018
New South Wales Integrity Commissioner declares there is no live baiting in the greyhound industry November 28, 2018
Greyhounds still killed in the hundreds as Queensland government and industry accused of dragging feet on reforms November 24, 2018 — Queensland greyhound racing to receive $3.5 million boost in race prizes November 27, 2018
Industry grumbles as Gosford track in New South Wales is closed for repairs September 6, 2017 — After $750,000 spent on fixing the track, Gosford will reopen November 27 November 6, 2018 — Gosford reopens after $762,000 upgrade November 27, 2018
The slow death of U.S. greyhound racing November 20, 2018 — Fears misguided about fate of discarded Florida racing dogs November 21, 2018 — Ohio woman gets ready to rescue more Florida dogs November 25, 2018 — Senate president is skeptical that legislature will offer compensation to the dog racing industry November 25, 2018 — Daytona joins the long list of Florida racetracks that will continue racing as long as possible November 27, 2018 — Adopt a greyhound — make a fast friend November 27, 2018
New brutal footage of greyhound hare coursing in Ireland November 26, 2018
New book of greyhound photos just released by photographer in Perth, Australia November 25, 2018
New greyhound racing stadium a step closer in Wallyford, Scotland March 10, 2017 — Thousands petition to scrap greyhound stadium plan April 6, 2017 — Protest demonstration calls for stop to stadium building plans May 1, 2017 — Duchess of Hamilton leads protests against stadium plans December 1, 2017 — Local council asks for update on stalled Wallyford stadium plans November 24, 2018
Greyhounds rescued from Macau Canidrome arrive in Philadelphia November 23, 2018
Two tracks closed in New South Wales for an indefinite time November 22, 2018 — Tamworth track closed for safety assessment after greyhound death November 22, 2018 — Tamworth trainers want a brand new track November 23, 2018 — Small-party politicians demand state government give more money to greyhound racing industry November 23, 2018
Prisoners at New Zealand's Rimutaka Prison are fostering greyhounds November 20, 2018
Irish government purchase of Harold's Cross greyhound stadium last year amounted to an €11 million taxpayer subsidy to the industry October 8, 2018 — Irish Greyhound Board knew the property was worth only €12 million in the first half of 2016 November 17, 2018 — Irish Greyhound Board operating profits dropped in half last year November 20, 2018
Victorian court fines greyhound trainer $15,000 plus court costs and bans him from being in charge of any animal for 10 years, after conviction on 16 animal cruelty charges November 20, 2018
Voters put greyhound racing in America on its last legs November 8, 2018 — How the vote to end Florida greyhound racing won, and what comes next November 9, 2018 — Kansas, with no active dog racing tracks, will still feel the impact of Florida's vote November 9, 2018 — Greyhound numbers are much smaller than the fear-mongers are claiming November 9, 2018 — Pensacola race track undecided as to when it will close November 9, 2018 — Organization set to provide transport for discarded Florida greyhounds November 9, 2018 — No reason to panic about greyhound adoptions in Florida; statistics are overblown November 11, 2018 — What happens to the Florida greyhounds? November 12, 2018 — Adopting a Florida greyhound in California November 12, 2018 — Pensacola track plans to stay open until January 2020 November 13, 2018 — Seattle prepares to receive Florida greyhounds November 13, 2018 — New Hampshire prepares to receive Florida greyhounds November 13, 2018 — Opinion: Industry's position "disingenuous" and "hypocritical" November 14, 2018 — Opinion: Floridians are fed up with the cruel practice of organized dog racing November 14, 2018 — Florida racing ban: Facts and fiction November 14, 2018 — Ebro general manager says track will stay open for another year November 15, 2018 — Spiteful racing industry blacklists adoption groups that could place thousands of greyhounds into adoptive homes November 16, 2018 — Racing industry plans to ask the Florida legislature for "compensation" November 16, 2018 — Big Easy Casino (a.k.a. Mardi Gras) is the only track with immediate plans to close; all 60 of its dogs will be raced elsewhere November 16, 2018 — Florida racing ban "mostly good news" to this adoption group November 17, 2018 — Greyhound adoption now becomes the media focus November 19, 2018 — "Displaced" greyhounds will not end up in ordinary animal shelters November 19, 2018
I learned photography to save abandoned hunting dogs in Spain November 17, 2018
Romford stadium undergoing £8.5 million redevelopment while dog racing continues November 16, 2018
News video coverage of Kevin the therapy dog November 13, 2018 — Kevin the greyhound is University of Central Oklahoma's first therapy dog November 15, 2018
13 most cuddly dogs breeds: Greyhound is #9 November 12, 2018 — 10 dog breeds that may make best emotional support animals November 15, 2018
Irish Retired Greyhound Trust has rehomed a mere 5300 dogs in the past decade November 10, 2018 — Oscar-nominated film director Lenny Abrahamson urges Irish dog lovers to adopt a greyhound or lurcher November 12, 2018 — Tipperary animal shelter over €40,000 in debt to veterinarians November 12, 2018 — Students at University of Limerick form group to propagandize on behalf of the greyhound racing industry November 15, 2018
Victoria trainer successfully appeals disqualification for live-baiting greyhounds with a rabbit March 27, 2017 — Live baiting charges against Paul Anderton dismissed again November 15, 2018
Plans finalized for new greyhound racing stadium in Swindon, U.K. January 25, 2018 — Work on new stadium could be underway by May January 25, 2018 — Stadium plans approved November 14, 2018
Towcester racecourse in England goes into bankruptcy protection as administrator is appointed August 16, 2018 — Track lays off majority of its employees August 16, 2018 — Possible buyers are watching developments August 18, 2018 — British Horseracing Authority will decide the fate of Towcester August 23, 2018 — 25 buyers lining up to purchase some or all of Towcester September 11, 2018 — Administrator plans to sell to preferred buyer on November 5 October 25, 2018 — Towcester racecourse assets sold to company linked to Hesketh family November 13, 2018
News feature on Greyhound Pets of Atlantic Canada November 13, 2018
Gambling industry ponders future of betting on animals in light of Florida racing ban November 12, 2018 — Attitudes to "animal sports" betting are changing November 12, 2018
Welsh greyhound sanctuary marks 25th anniversary November 12, 2018
Veterinary professor's 25-page report on U.K. greyhound injuries is available for free download November 9, 2018 — Greyhound racing: Is it time for a ban? November 10, 2018
Irish trainers convicted of live baiting still have full access to greyhounds and other small animals April 13, 2017 — Owen McKenna launches court challenge over fines and forfeitures for greyhound doping November 13, 2017 — High Court hearing began today October 11, 2018 — McKenna loses appeal against fines and forfeitures November 9, 2018
Peter and Jodie Lagogiane trained winner of world's richest greyhound race October 20, 2018 — And you thought America was going to the dogs November 9, 2018
RSPCA condemns decision to build greyhound breeding facility in Murray Bridge, South Australia July 20, 2018 — Petition campaign launched against breeding facility July 23, 2018 — Citizens are challenging Council decision in Court October 3, 2018 — December 19 is target date for first official race at Murray Bridge November 9, 2018
Canberra politician may have violated conflict of interest rules by accepting free $300 rental from racing industry November 8, 2018
Arkansas voters will decide in November on proposal to add a casino to Southland Greyhound Park September 5, 2018 — Detailed information on the casino ballot proposal October 4, 2018 — Voters passed casino gambling expansion measure, giving greyhound track a new lease on life November 7, 2018
Amendment 13 to end dog racing passes November 6, 2018 — Greyhound racing Amendment 13 passes in Florida, phasing out sport by 2020 November 6, 2018 — Timeline to Florida victory November 6, 2018 — Sarasota Kennel Club plans to run another full season of dog races November 7, 2018 — Melbourne Greyhound Park will carry on November 7, 2018 — Palm Beach Kennel Club plans to continue racing for two years, and pledges all dogs will be rehomed November 7, 2018 — Is the era of greyhound racing finally over? November 7, 2018 — Both sides expect a gradual shutdown over the next two years November 7, 2018 — Victorious Committee to Protect Dogs plans outreach effort to find homes for racing dogs November 7, 2018 — Derby Lane racetrack plans to carry on racing through 2020 November 7, 2018
Two metre long snake stops greyhound races at Western Australia track November 6, 2018
More celebrity endorsements for Florida's Amendment 13 campaign October 24, 2018 — Ellen DeGeneres, Uzo Aduba, and Owen Wilson fight to end Florida's greyhound racing industry October 25, 2018 — Racing has killed 460 Florida greyhounds in the last five years October 25, 2018 — Opinion: No, a vote to ban greyhound racing is not a vote to end fishing, hunting and life as we know it in Florida, no matter what they tell you October 26, 2018 — YES on 13 campaign advisor confident of win on November 6 October 26, 2018 — Jacksonville Socialists recommend a Yes vote on Amendment 13 October 27, 2018 — Floridians deciding greyhound racing's future October 28, 2018 — Will November 6 be Greyhound Independence Day in Florida? October 29, 2018 — Time to consider amendment about greyhound racing October 30, 2018 — Floridians have a chance to ban cruel greyhound racing when they go to the polls October 30, 2018 — Race to the finish October 31, 2018 — Lara Trump at "edge of victory" to end Florida dog racing November 1, 2018 — What will happen if Amendment 13 passes? November 2, 2018 — Dog racing compounds in Florida, 2018 (YouTube vide) November 2, 2018 — Amendment 13 faces "uncertain prospects" November 3, 2018 — Ten good reasons to vote for Amendment 13 November 3, 2018 — Pensacola News Journal says vote Yes, condemns "bizarre and dishonest" claims from racing supporters November 3, 2018— Dog racing compounds in Florida 2018 (YouTube video) November 3, 2018 — Late polls show a clear majority support ban on dog racing, but may fall short of 60% level required to pass Amendment 13 November 4, 2018 — News feature video about the vote on November 6 November 4, 2018 — Florida Times-Union says: Vote YES on 13 — November 4, 2018 — Election day could mean the end of greyhound racing in Florida November 5, 2018 — Florida League of Women Voters supports Amendment 13 November 5, 2018 — A vet's duty to dogs is a YES vote tomorrow November 5, 2018 — Florida breeder says he gave it up out of concern for the greyhounds November 5, 2018
Click on the paw
to return to the top of the page